Formulate user Cecilia is in need of some advice:
I'm getting married next June! Yay! I'm getting my hair done by a pro but I didn't want to shell out to have my makeup done because ya girl has a budget. I figured I would save a bit by increasing my overall makeup knowledge and doing it myself. I've never really been a person who wears a ton of eyeliner but I know I'll want to wear a little to make my eyes pop. I really like it on other people, I just never bothered to get into it very much myself because eh, who has the time to do eyeliner every day? So now the problem is that I know almost nothing about eyeliner since I never really wear it. My plan is to practice a lot until I get better. And that's where I need your help. What are my eyeliner options, what are all the different types? Is there a type that's best for beginners? Should you apply eyeshadow or eyeliner first? Also I've heard liquid eyeliner typically looks best, is that true?
Thanks for writing, Cecilia. Congratulations on your big day! To answer your questions, we consulted professional makeup artist/educator Alyssia Chang, founder of Prevail Beauty. We've included our conversation with her below - we hope it helps!
Types of Eyeliner
Formulate: Hi Alyssia! Thanks for your help. What are the different types of eyeliners, and what are the pros/cons of each for a beginner?
Alyssia: There are 4 main types of eyeliner categories: Gel, Liquid, Pencil, and Powder.
Gel eyeliner is generally easy to apply. It's a great gateway to learning how to master eyeliner before using liquid. Gel provides a very smooth, even finish. It also tends to last longer than other types of eyeliner. You can get a clean, even line. However, it can be difficult to remove and may smudge more easily than other types depending on the formula.
Liquid eyeliner creates a clean, defined line. It provides a very even pigmented finish. It comes in matte, satin, or a luster finish. There are many colors and you can also get metallic or glitter formulas. The downside is that it can be harder to apply depending on the applicator. The user might have difficulties creating a nice line if they have an unsteady hand. Also, be careful if you have lash extensions as many do contain oil as a base.
Pencil eyeliner is the most versatile type of eyeliner and the easiest to use. It can be used to create a variety of looks, from tightlining to smudged-out thick, dramatic wings. Pencil eyeliner is also relatively easy to remove. It comes in different formulas: Kohl (best for smudging), Gel (best for long-wearing), and waterproof. A couple of cons is that pencil liner might transfer and may need to be sharpened frequently if it doesn't have twist-up packaging.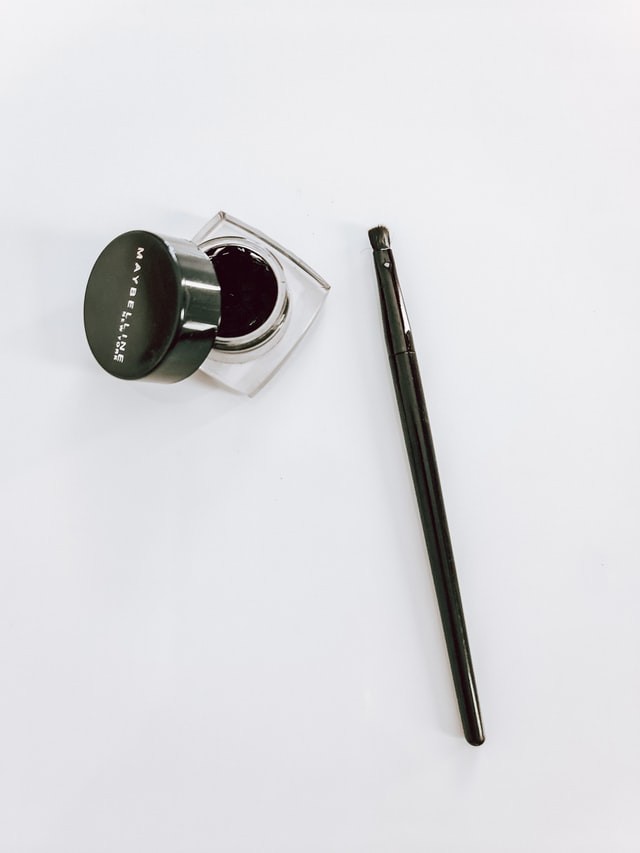 Image content: A small container of black gel eyeliner next to a small makeup brush.
Powder eyeliner is the most natural, soft, and beginner-friendly way to apply liner. It is perfect for defining your lash line and making a template for your liquid or gel. It is the fastest way to achieve a framed eye. The downside is that powder can fade or wear off quicker, might not show up as deep as you want it to, and doesn't create clean-cut lines.
Formulate: What kind of looks does each type of eyeliner work best for? Why?
Alyssia: Gel eyeliner is an eyeliner that is great for creating an opaque line but without the advanced makeup skills needed for liquid liner. It is great for an evening-to-night look as the formula isn't light or natural.
Liquid eyeliner makes the best dramatic liner looks. Think bold, graphic, or winged-out eyeliner. The super pigmented and very sharp lines make it easy to create evening-to-night shapes.
Pencil eyeliner is very versatile due to the vast range of formulas it comes in. It is the only eyeliner that is safe for the waterline and tightlining as it is a "dry" texture. It will stay on the waterline area and won't leak into the eye itself. It is also amazing for creating a smudged-out line on the top eyelid. If you have a gel-based pencil eyeliner, it can make great graphic line shapes.
Powder eyeliner is best for natural and daytime looks. When you want a soft definition and natural frame for the eye, the powder texture makes the liner look easily diffused onto the skin and has a soft blended edge.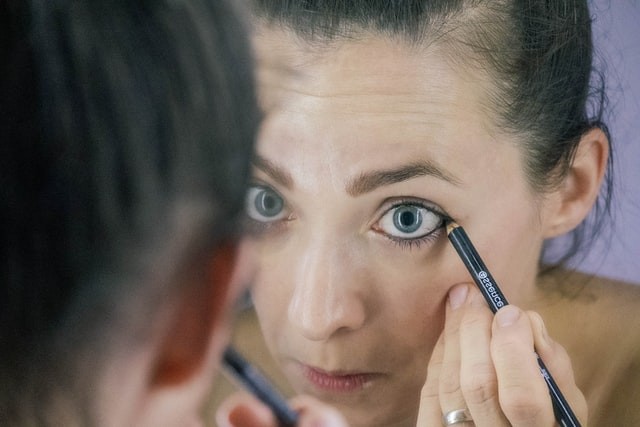 Image content: Person looking into mirror applying pencil eyeliner at corner of left eye.
Eyeshadow or eyeliner first?
Formulate: Should you apply eyeshadow or eyeliner first? Why and how?
Alyssia: Think about how it might affect the eyeliner if you put on powder or cream eyeshadow after you have perfected your eyeliner. If you are applying eyeshadow over the whole eyelid, the chance of fall out or accidentally sweeping your eyeshadow brush over your liner is quite high. That might ruin the liner look that you just created.
Take your cream or powder eyeshadow and apply it over the eyelid to create your desired makeup look. Then take your eyeliner and draw a line as close to the lash line as possible on both eyes. Make sure that they are symmetrical and even. From there, you can create more of an almond eye shape line or wing it out.
Is liquid eyeliner better?
Formulate: Does liquid eyeliner work better than pencil eyeliner? Why or why not?
Alyssia: It depends on what look you are trying to achieve. Liquid creates a bold, even, and smooth line. But it can be tricky when applying if you have an unsteady hand, runny product, or if there is a poor applicator on the liner itself. Pencil eyeliner is wonderful on the waterline to add a dramatic effect or to tightline the upper waterline for a thicker lash line look. It is also great if you do not have a steady hand and want to create a liner look without the potential "mess". The only downside is that it might "catch" onto the upper lid skin and not make a smooth line. Pencil also might not create the dramatic effect that is delivered when using liquid.
Wanna learn more about the world of skin and hair care? Here's your next read:
How to defrizz your curls and get 'em back into shape!
What's the difference between hot rollers and curling irons?
Difference Between a Mole and a Freckle
What's the difference between a mole and a freckle?
Moisturizer vs Lotion: What's the difference?
Can you use body lotion on your face?
Tips For Washing Hair In Hard Water
This is your guide to washing your hair in hard water
Welcome to the wonderful world of minimalist hair
Type of Combs: Materials and Shapes
Your complete guide to picking out a comb