Getting the perfect shag cut
A shag can be straight, wavy, or curly. It can be any length, from above the ears to below the shoulders. The shag is less of a specific shape and more of a mentality. "This is not a cookie-cutter, cut," says celebrity stylist Christiaan Houtenbos. "So it's even more important than usual to go to someone whose work you know and like."
If you have fine hair:
Houtenbos says: "A lot of choppy layers can make fine hair look thinned-out, which creates an unfortunate fluffiness. Not everyone with fine hair needs to go short, but if your hair is particularly wispy, bring your ends up to at least shoulder length."
If you have thick hair:
Coarse hair usually works with any length of shag haircut. If your hair is particularly bulky, some additional thinning may help. This can be achieved either by layering or cutting with a razor Houtenbos recommends that this should not be done more than once every four to six weeks, as it can split and damage the hair.
If you have curly hair:

"Loose curls make a shag look more free," Houtenbos says. "Those with tight spirals should skip this cut." Opt for a bob length or a short boy version that has longer layers around the ears and the front. "If it's too long all over, the curls will form a heavy block," Houtenbos says.
Styling a shag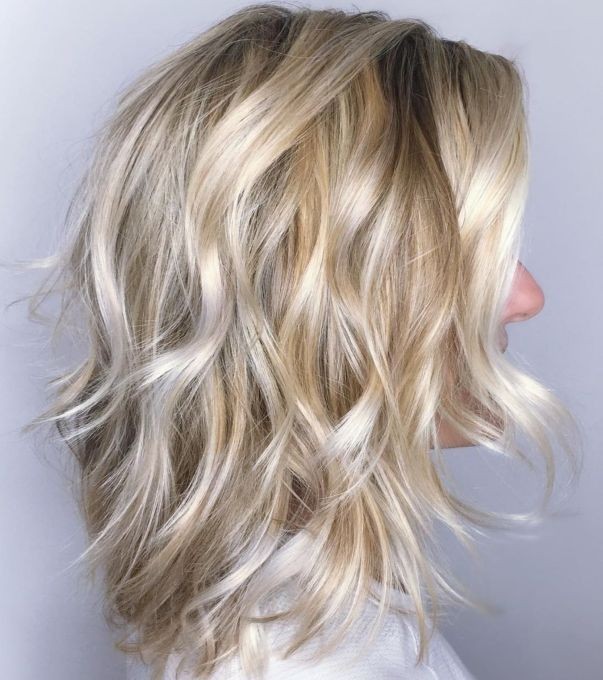 Not sure what to do with your newly cut shag? No worries. We chatted with stylist and shag-specialist Sam McKnight to learn all the best ways to rock your new 'do.
Making your shag look stylishly lived-in
A shag's messy layers may make it the ultimate do-nothing haircut. With a shag, you can do a wash-and-go... or skip washing altogether.
"I tell people to shampoo only every second or third day," Sam McKnight, a celebrity stylist and shag expert, shares. "It allows the hair some natural texture. It gives it that nice lived-in feel"
McKnight suggests adding a dollop of hair cream to style a purposefully messy shag. He typically tells clients to rub a pea sized dab between the fingertips. "Then you just scrunch damp or dry hair until you achieve the desired level of semi-dirtiness. Boom, you look like you just woke up looking great."
Styling a short shag
If you've got a short shag, feel free to ditch the hair cream in favor of a texturizing spray. "Shorty shags do well with a sugar spray or a salt spray. You can achieve a sexy, undone look by applying a sugar or salt spray, or another light volumizer, from the mid lengths to the ends. Blast it dry with a hairdryer right after." And if you don't have one of these sprays, McKnight says to "flip your hair upside down and shake it while applying a light hairspray. You can then flip it back over and shape it into place."
Styling without hair products
Fresh out of hair products? You've still got options. McKnight suggests styling a shag by erratically straightening the hair. On air-dried hair, smooth random sections with a flat iron, leaving others untouched. Don't let the iron linger -- according to McKnight, "a very quick pass over each section will suffice."
"Vary the sizes of the sections," McKnight says. "On some pieces, do just the roots, and on others just the ends. The more haphazard-looking, the better."
Styling a curly shag
You'll want to vary their styling methods depending on your hair texture and length. For long, curly shags, McKnight recommends first applying curl enhancing products into damp hair. "Then smooth the fringe by working back and forth with a flat brush, and finally diffuse the remaining hair until it is fully dry. Alternatively, you can shape curls in place with a flat or curling iron and hairspray."
Creating volume in a shag
Start out by applying a volumizer at your roots, then apply styling cream from your mid lengths to your ends. Next, McKnight says to "do a rough blow dry until your hair is about 70% dry, so all the excess moisture from the products is gone."
Once your hair is dry, McKnight says to grab a round brush. "Shape and lift sections of your hair to create bends at the ends, until your hair is fully dry. Use a flat iron to bend your ends towards your face, and then apply some light wax or paste to give your ends some separation."
Styling a long, traditional shag
Not every shag is 70's-rific. For anyone who's got a more mildly layered shag, McKnight says to first apply styling cream from the mid-lengths to the ends, and then give the hair a quick, allover blowdry. "Then smooth your ends with a round brush. And don't skip this last step -- use some texture powder on your roots to create separation and lift." While McKnight prefers salon quality texture powder, he'll also go for cornstarch or dry shampoo when salon powder isn't available.
Creating drama in a shattered shag
McKnight suggests starting out by applying some sort of hair cream -- if you have lots of hair, reach for a smoothing cream. If you have thin hair, go for the thickening cream. "Then dry your hair until it's maybe 80% dry," says McKnight. "Brush it with a paddle brush right after, and straighten the ends with a flat iron. End with a quick blast off cold air from your hair dryer. The final result should be dramatic and stylishly unkempt."
Wanna learn even more about haircare? Here's what you should check out next:
What Does Chlorine Do To Your Hair?
Spoiler: It's not good for it.
Pssst -- if you think your hair color has expired, you should go ahead and ditch it.
The heck is "blotox" anyway?
Sleep easy with your curls secured.
Is this the right curl-cut for you?