Here's something that you've probably never noticed: Sophia Loren has a very big forehead and a very, very small chin.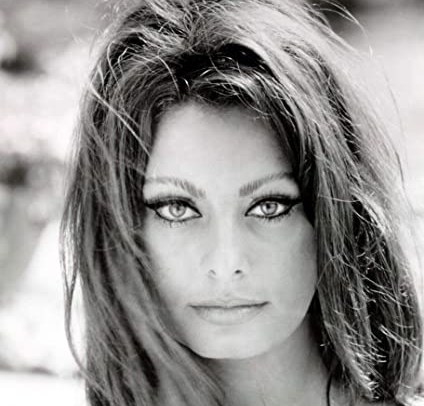 See? Big forehead. Small chin. But she's also got enormous, mesmerizing eyes. Arguably, two of the most famous eyes in beauty history.
Sophia Loren's stylists knew this. That's why, if you look at nearly any picture of Sophia Loren, she rocks bangs and a fluffy hairstyle that brings attention to her eyes.
And when you look at her eyes, well, you're not looking at her chin.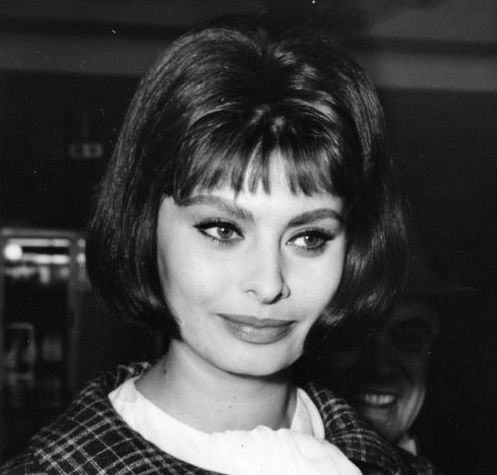 Just look at this bob. Her large forehead allows for her to effortlessly pull off shorty bangs -- seriously no small feat.
The inward flip of her hair frames her face and points away from her chin, towards her eyes.
Another famous beauty with a surprisingly weak jaw and chin: Audrey Hepburn.
Check out this early pic of Audrey. Sure, she's quite young here, but all that hair around her face makes her chin look miniscule. It's dwarfed in comparison to her voluminous locks.
Her hair ends at her jaw, bringing the eye to her teeny tiny baby doll mouth. The result is a woman who looks more like a child than an adult.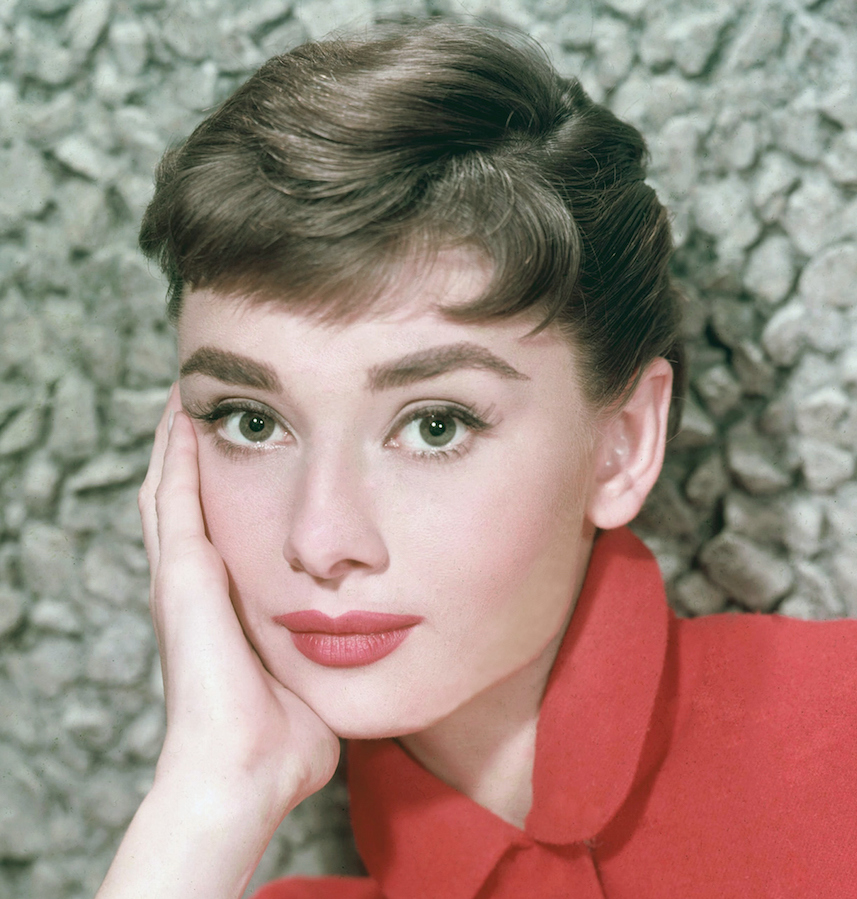 The style in this picture tells a very different story -- instead of looking childish, Audrey is a beautiful, bold woman in red.
Audrey's chin looks less teeny in this picture. The playful, swervy bangs bring attention to her eyes, and full eyebrows. They, in turn, bring you back to her eyes.
By not having hair that goes down to her chin, it and her jaw receive almost no visual attention.
So what can you learn from these two famously beautiful actresses? One, everyone has features that are less than ideal. And two, it's easier than you think to bring attention to the features that you want people to look at -- just choose the right hairstyle.
Controlling where people look with the length of your hair
One way to bring focus to your strongest facial feature is with length termination. Wherever your hairstyle ends will be a natural visual focus on the plane of your face. So if you have great eyes, go short, above the ears. If your eyes aren't your favorite feature but you love your nose, then terminate your hairstyle at earlobe level. Where your hairstyle ends is where the visual focus will be.
Alternatively, if you hate your ears for some reason, for example, if they protrude more than you'd like them to or if you have damaged earlobes, then you can hide them with a style that covers your ears.
"But how can I do this without cutting my hair?"
One word: updos. Well, actually four words: updos and half-updos. Also -- hats.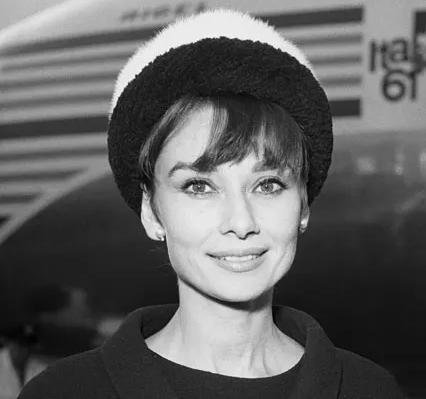 Just look at this picture of Audrey Hepburn. By pulling her hair up (and under a hat), her face is elongated, making her jaw look stronger and her chin more prominent. The hat causes more visual weight to be placed on the top of her head -- it doesn't look like she's intentionally hiding her chin, she doesn't have any hair around it or anything that could obstruct its view. Instead of obscuring any part of her face, the hat functions as an optical illusion.
Not in the mood for a hat? No problem. You can get the same look with a big scarf or padded headband.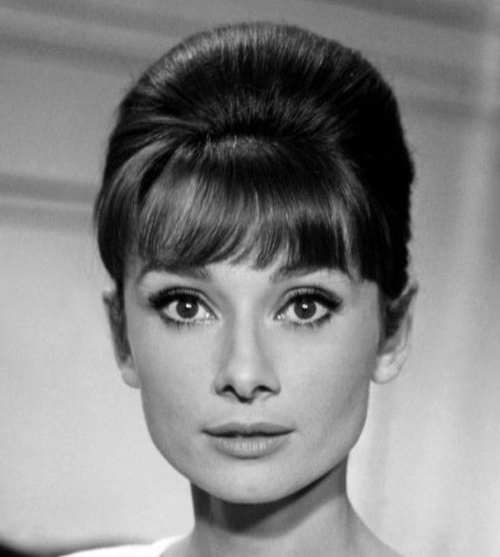 You don't need an accessory to make this work -- check out this beehive and bang combo. Beehives might not be as in-style as they were in Audrey's days, but you can still get a similar visual-weight control effect with a high pony, space buns, messy bun, or top knot.
Let's talk about bangs
If there's a theme in the above photos, it's obviously bangs. If your eyes are one of your best features, bangs can make them pop.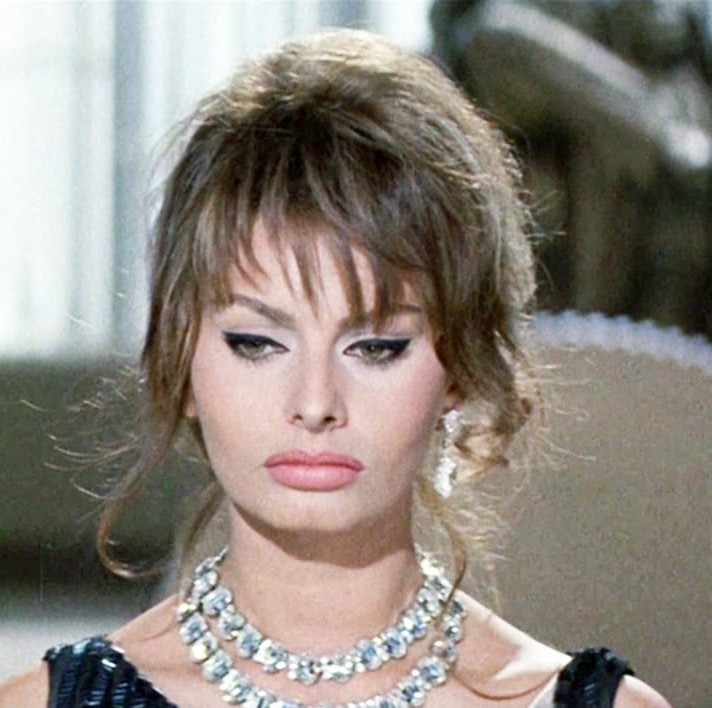 In this photo, Sophia Loren's bangs point directly to her dramatic cat eyes. They're basically huge, flashing arrows going straight to her peepers. They're heavy on top and shaggy on the bottom, sending all the attention to her best feature.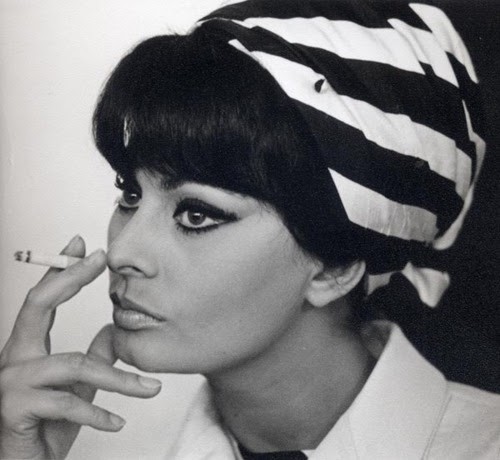 Sophia's eyes have a peek-a-boo effect under this thick fringe. Bangs sometimes get a bad rap of hiding the eyes, but really, they accentuate them. Bangs are like mascara: they frame the face, giving the wearer a dramatic, alluring look. So if your eyes are a feature that you'd like to accentuate, well, lucky you! Time to bang it up!
Wanna learn even more about haircare? Here's what you should check out next:
What Does Chlorine Do To Your Hair?
Spoiler: It's not good for it.
Pssst -- if you think your hair color has expired, you should go ahead and ditch it.
The heck is "blotox" anyway?
Sleep easy with your curls secured.
Is this the right curl-cut for you?